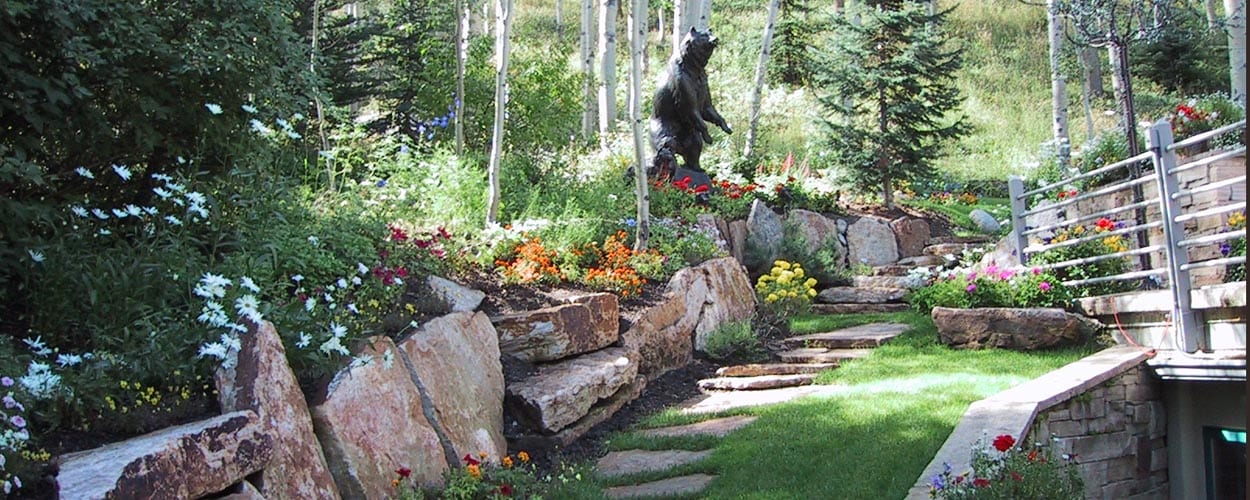 Trust the Landscape Technology Group team to personalize your landscape design in Vail Valley! Our highly skilled landscape contractors have served the Vail community for more than 20 years.
Healthy, sustainable, beautiful Colorado landscapes and gardens are those designed to be attractive and used year-round. As experts in Colorado gardens and with decades of experience in Vail Valley mountain landscapes, our landscape contractors offer you unmatched service in helping to create outstanding landscape design.
At Landscape Technology Group we work with clients throughout the Vail and Edwards area to achieve gardens and outdoor environments that not only create a divine atmosphere but also endure and improve with each passing season.
At the heart of our high quality landscape design is effortless functionality within an outstanding physical environment. Our landscape contractors love to work with mountain landscapes and balance the dynamic of the Colorado climate and need for Colorado-specific plants, flowers, trees, and shrubs.
We work with Vail Valley homeowners and businesses to:
Understand what kind of outdoor experience you desire
Create a comprehensive landscape design that achieves the environment and outdoor experience you dream of
Our landscape design approach uses the latest technologies available including smartphone apps that help optimize the outdoor experience by controlling lighting and irrigation.
GET A QUOTE
Determining the Right Landscape Design Services for You
Our expert team of landscape contractors also includes landscape architects, urban designers, horticulturists, and nurserymen. From the first seeds of imagination, to creating a garden oasis, to maintaining beauty for years to come, Landscape Technology Group offers a complete range of landscape design services.

Landscape Design and Installation in the Vail Valley
We work with you to understand your vision, outdoor possibilities, garden use, entertainment plans, and much more. Our landscape designers create options that address your goals and budget. Installation is overseen by experienced landscape contractors and completed with minimal disruption.
Flower Gardens, Lawns, Trees, Grasses, and Shrubs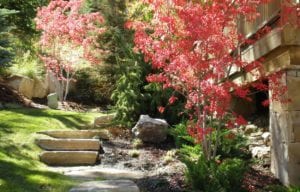 We are experts in plants, flowers, lawns, and trees that are native for the Vail Valley garden. By understanding your preferences on color, shade, and shape, we create Colorado mountain landscapes that will inspire and excite.
Rockscapes, Waterscapes, and Water Features
We specialize in creating living water systems that support plants, fish, and wildlife. By creating a custom and natural eco-system of waterfalls, ponds, or streams, your garden can be transformed into a soothing and entertaining asset for your home or business.
Walkways, Paver and Stone Patios, And Porches
We are experienced in creating outdoor elements using natural stone, paving stones, and pavers that guide you through the garden or create the perfect sitting area. Our approach incorporates our knowledge of Colorado weather extremes to ensure your new area matches your décor while standing up to intense heat, cold, and snow.
Courtyards and Entrances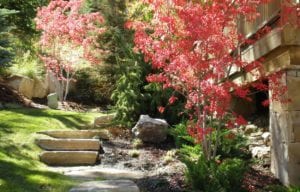 We can create magical and majestic courtyards and entrances that usher guests and visitors into your Rocky Mountain home or business. Our portfolio includes welcoming gates, pathways, lighting, planters, and plantings installed with skill and thought to transform your entrance area.
Pergolas, Archways, and Trellis Features
We understand how to add creative, attractive elements to gardens that add beauty and functionality to every area of the outdoor living space. From arbors to archways, we can create seating areas, structures, and shade surrounded by beautiful flowers, plants, and trees.
Outdoor Landscape Lighting
We work to create exceptional impact using creative, cost-efficient, and long-lasting lighting for every type of landscape! Through thoughtful use of light and color, we can create magical environments that establish mood and atmosphere while spotlighting everything special about your Colorado home of office building. Lighting is controllable via a smartphone app!
Fire Pits, Fireplaces, and Outdoor Cooking Areas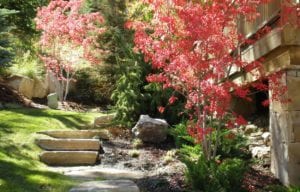 We are experienced in designing and creating outdoor kitchens, fireplaces, open fires, and fire pits that enhance the natural beauty of your Colorado landscape design! Outdoor spaces that use fire and natural elements add a unique and cozy environment any time of the year.
Landscape Irrigation and Sprinkler Systems

We know the stresses the Colorado environment and weather can cause new and mature landscapes. We offer expertise in landscape irrigation design, installation, repair and maintenance to keep your landscape, garden, yard, trees, and plants at their best with the most efficient watering options. Irrigation systems can also be controlled using a smartphone app to maximize efficiency.
Commercial Storefronts and Buildings
We understand the value to commercial property and businesses of achieving attractive and welcoming landscapes. As experts in Colorado gardening in the Vail Valley, we can design, install, and maintain beautiful business and storefront landscapes that add personality and quality to your company.
Pre-home and Building Construction Landscape Planning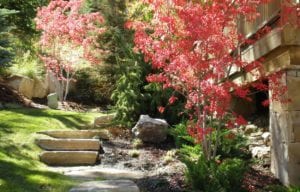 We have the knowledge and experience to help create outstanding landscapes for your new home or building projects. Our approach includes landscape design, source materials, estimating, installation, and ongoing maintenance. We offer complete landscape services including hardscape, decorative structures, fencing, lighting, water features, and all plant selection and planting to create a beautiful Colorado environment.
Premier Landscape Design & Construction For The Vail Valley Since 1998
The Landscape Technology Group has proudly served the Vail Valley and surrounding mountain communities since 1998. Whether you're an out-of-state second home owner or a valley native, you can rest assured our landscaping team brings 20+ years of experience designing and maintaining sustainable, beautiful landscapes in our rugged mountain environment. Based in Vail, our fleet of landscape professionals serves Gypsum, Beaver Creek, Avon, Edwards, Cordillera, Morning Star, Eagle County, and surrounding communities.
With almost 20 years of experience and extensive knowledge in Colorado plant, flower, and tree types and all aspects of landscape design and maintenance, Landscape Technology Group uses today's innovating technologies and long-term conservation principles to create outdoor settings that capture the senses no matter the season.
CONTACT US
To achieve the landscape of your dreams, contact us. We understand the challenges and potential of Colorado gardens and can help you realize a dazzling landscape that can be enjoyed year-round for years to come. Contact us today to start see how we can help you have the landscape you've dreamed of, or to join our growing team!