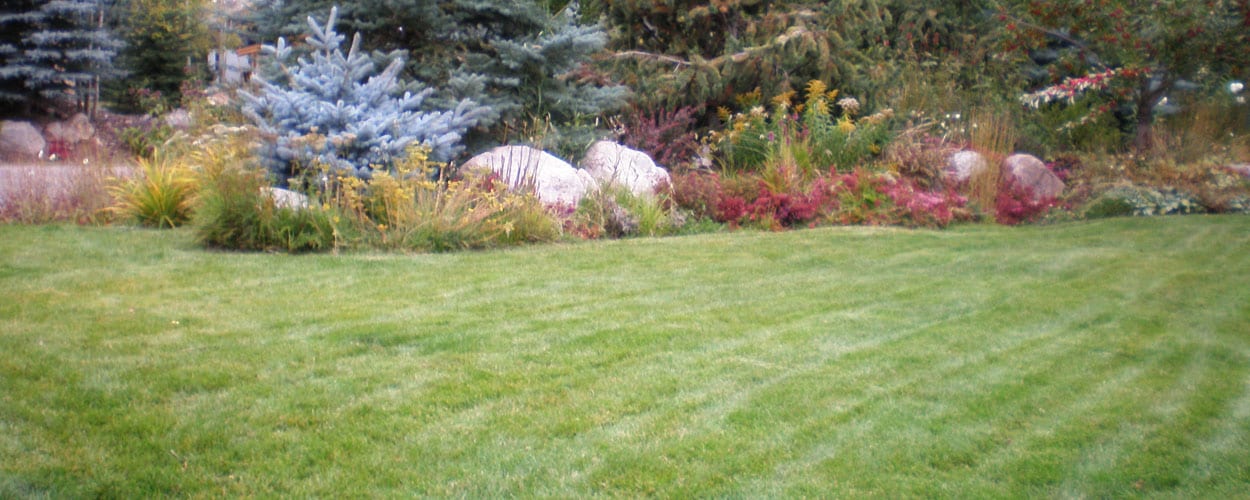 You've invested a lot of sweat, money, and energy into your lawn; don't let it go to waste!
Hire our skilled lawn maintenance team at Landscape Technology Group to care for your landscaping year-round! We enjoy helping families and businesses throughout the Vail Vaily maintain their beautiful outdoor environments and nurture their landscapes to become more beautiful over time!
Our landscape and lawn maintenance services save you time and money by delivering the right services at the right time, while improving the value of your property.
The Landscape Technology Group team is highly educated and experienced about the many complexities of Colorado landscapes, gardens, and lawns. We live in the Vail Valley, too! That's why we understand that mountain landscapes and cool, sometimes unpredictable, Vail Valley weather patterns can be a challenge for plants, yards, and trees. Our technical approach to hardy landscape maintenance and continued growth in landscaping knowledge allows us to stay on top of your lawn maintenance requirements to keep your outdoor environment at its best!
Lawn, garden, and landscape maintenance services are offered year-round and tailored to the seasonal needs of your yard.
GET A QUOTE
Choosing the Right Landscape & Lawn Maintenance Services for You

From plantings to pruning, pest management to propagating seeds, you will be amazed at how beautiful and productive your lawn, landscape, and garden can be throughout the year.
Our lawn maintenance programs are designed specifically to care for the outdoor environment, plants, and living spaces of homeowners or commercial businesses in Vail Valley. By ensuring plants, trees, lawns, and shrubs are pruned, fertilized, aerated, and refreshed at the correct times during the year, your outdoor spaces become a true asset to you over time.
Landscape Technology Group services are extensive and scheduled to keep you worry-free about the yard or garden maintenance required for your home or business property:
Seasonal lawn care and clean up.
Edging, mowing, aerating, weeding, and fertilizing of lawns.
Water feature maintenance.
Walkway and patio maintenance.
Mulching, soil moisture retention, and soil erosion care.
Pest management and disease control.
Irrigation installation, monitoring, autumn blow-outs, and sprinkler winterization. See sprinkler services
Lawn maintenance in the winter, plus snow removal.
Providing Lawn Maintenance in the Vail Valley and Surrounding Mountain Communities Since 1998
Our team is mountain strong! Since 1998, we have proudly offered landscape design and lawn maintenance to the Vail Valley including Gypsum, Beaver Creek, Avon, Edwards, Cordillera, Morning Star, Eagle County, and surrounding communities. 
Our specialized team will keep your hardy Colorado landscape thriving, colorful, and healthy throughout the year! Contact us to find out more about our range of landscape, garden, and lawn maintenance services.